We believe that people are deserving of spaces to fall deeper in love with who and how they are. Since 2015, we have created safer spaces for holistic wellness and healing. Our membership program was created to foster a deeper sense of community and allow us to best service the needs of our unique clientele. Are you a newbie trying out beauty services for the first time? Or are you a NiaZamar regular who has been a part of community visiting us as the seasons change for your regular touch up? Or are you deeply committed to your self -care routine, booking regular appointments, attending events and seeking a support system for your wellness journey? We are your accountability partners. There is something for everyone in the NiaZamar House.
Client centred care is integral to our work. We value creating spaces for not only beauty but wellness and personal transformation. On your terms.
NiaZamar: Redefining Beauty is a membership based beauty wellness social enterprise, empowering self love via mind, body, and soul. NiaZamar provides holistic & inclusive beauty using make-up, hair artistry, one-on-one classes and beauty products. NiaZamar caters to your unique identity and personality for personalized results.
NiaZamar can be found on all social platforms @niazamar
Trap My$tic is the culmination of magic, community and business.
It is that sacred space where alchemy, spiritual healing and life purpose come together. Trap My$tic is a blend of intuitive guidance, manifestation, strategic alchemy and life resources for forward movement through healing.
TrapMy$tic can be found on social @trapmystic
Adornment is a collective of Black women/femme youth artists, educators and change makers with in-depth community artist experience who wish to cultivate spaces for others like us to safely tell their stories.
Our collective mission is to provide safer spaces for Black women/femme youth to discuss the issues that are impacting their mental health, develop self-love practices and increase earning capacity via digital arts education. As facilitators who live in the neighbourhoods we support, and share intersecting identities with participants, our objective is to develop a sustainable program/platform that provides each participant with an increased skill, network and income to transform their personal stories.
Adornment can be found at @adornment.stories
PROJECTS AND COLLABORATIONS
MIND.BODY.SOUL HEALING CIRCLE
Facilitator |Coordinator
365TRUSTLOVE
Creative Director |Coordinator
Documentary and Photo Series
THE ART OF HAIR
Facilitator |Coordinator
Arts based educational program using beauty to engage in conversation about identity and self-love to girls and young women ages 5-35. Twelve week sessions were held in Scarborough and the Lawrence Heights Community.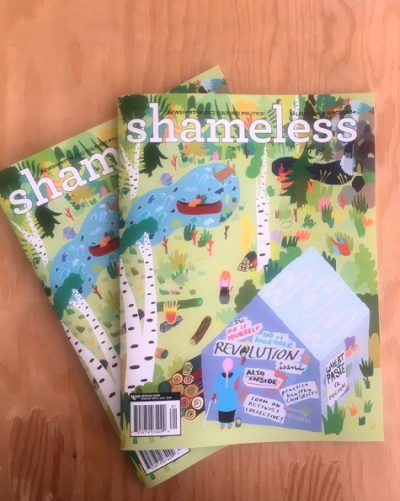 SHAMELESS MAGAZINE
Writer | Photographer
EDUCATION TOUR
Facilitator |Educator
Adornment: Self-Love Beauty Rituals for Healing
Toronto |Detroit|Broooklyn
MY BODY IS MY CANVAS
Facilitator
Weekly arts based workshop connecting practical skills with historical knowledge of adornment
WEAVE: WE ARE PART OF THE FABRIC
Facilitator |Coordinator
Developed and facilitated a weekly entrepreneurship and creative enterprise program for LGBTQ Youth primarily of colour who are faced with barriers of under-employment, under-housed and conflict with the law. This position included building partnerships with organizations as a tool to provide opportunities for youth to build income and experience. Curriculum focussed on crisis management, marketing, business structure, online business, financial planning, professionalism and various aspects of self-employment. Administrative duties involved managing yearly funding, developing curriculum and supervising a team of co-facilitators.
BRIADING WITH A SOCIAL TWIST
Facilitator |Coordinator
Developed and facilitated weekly HIV/AIDS programming for young women from the African Diaspora. Our weekly curriculum and discussions centred on topics including self-efficacy, healthy sexual practices, healthy relationships and self-care regimens
"In the time that I have known Tanya, she has exhibited exceptional commitment and passion to the organization and community development and engagement in general. She extends her talent of hair braiding and other art forms to mobilize and engage communities. She has put on numerous events such as a fashion show focusing on self-love. She has facilitated a number of programs in the community that teach young women life skills. One of her most noteworthy accomplishments within BrAIDS for AIDS was the development and facilitation of the hairdressing component of a community based health promotion program. Participants of the program have praised her for her work. I am extremely impressed with her dedication and work ethic to this project and to the organization."
-
Stachen Frederick
Executive Director, BrAIDS for AIDS